Integrity Beyond Design & Durability
We are a full-service residential custom electronics design and integration company. Our smart home technology solutions make your home safer, more user friendly and aesthetically appealing . Our team's number one priority is providing our clients with the best products and services that can be obtained in our industry.
We strive to provide the highest quality, proven products while keeping budget in mind. We love creating systems that are rock solid, easy to use and at the cutting edge of technology.
Smart home communications and control depend on a solid and reliable network foundation. We provide a complete networking solution that ensures robust data security and top speeds everywhere in the home – wired and wireless. Business-class networking equipment satisfies the needs of all network based systems, including telephone, streaming media, security, control system and personal devices that are connected on the network.
A security system provides safety from intrusion and it also offers detection of smoke, gas, water leaks, and extreme temperature in sensitive zones. With monitoring activated, emergency services will respond rapidly if an intrusion or fire is detected. Motion detectors are installed in key locations for alerts of physical presence. Glass break sensors can also be installed for rapid alert of forced intrusion.
Smart climate control makes it easy for you to set the perfect temperature of your home regardless of the season or other conditions. Create a comfortable environment by making adjustments from the same touch screen you use to control your lights, shades, and home entertainment system. Monitor and control your thermostats from a mobile device and turn up the heat before returning.
There's a wide range of technology solutions built to withstand outdoor elements without compromising performance. Add music, video, and lighting control to make the perfect entertaining space or a personal retreat for relaxing after a long ski day. Watch your favorite sports team or movie on a flat screen TV that, not only weathers the storm and the sun, but minimizes glare for quality viewing even on a bright day.
Digital audio matrix systems send music to many rooms in your home. Control of your music is simple and intuitive by means of touchpanel, tablet or mobile device. Whether the speakers are placed in the walls, ceiling or on bookshelves, they can be designed to aesthetically blend in to minimize visual impact. You'll need fewer components because music sources like Pandora or AirPlay can be shared in any number of rooms of your home.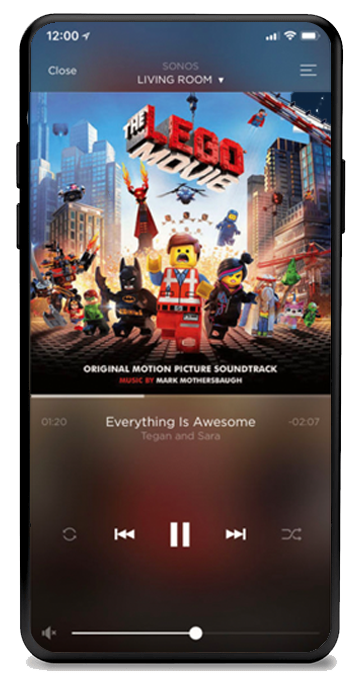 Sonnen energy automation: Introducing the next big thing in home automation. Sonnen combined with ecoLinx gives you a clean, reliable and long-lasting intelligent energy storage system that provides energy independence. Energy automation systems take the guesswork out of managing your home energy supply and create the ultimate smart home experience.
Find out more about how Cloud 9 can help you to enhance your home and your lifestyle.
Make Your Property More Energy-Efficient & Secure
Explore how a smart home streamlines and simplifies all the technology in your house, offering the ultimate lifestyle of comfort and convenience. In this top-down view of a standard smart home, you can learn more about the individual elements that combine to make your property more energy-efficient, secure, and enjoyable.
Cloud9 has an impressive portfolio of home technology projects and has extensive experience in Steamboat Springs. The team is very knowledgeable and passionate about customizing home technology to fit what you need. They have many options for media rooms, home theaters, lighting, security, remote access control, and the list goes on. Ask for references, many happy customers in Steamboat, CO!
Mel Timmins
Our home building experience with Cloud9 has been terrific! We engaged Thomas and the Cloud9 team early in the design phase of a new home project in Steamboat Springs. At the project's outset Cloud9 listened carefully to determine the features and functions that would best fit our lifestyle. The resulting control-system proposal for sound, lighting and blinds worked well with how we wanted the new home to function. Throughout the process Thomas and his team were flexible and responsive. They made adjustments to the plans as ideas evolved, while remaining disciplined about the project cost with well-documented proposals and change-orders.
Thomas and team also enthusiastically pursued new ideas and expanded Cloud9's capabilities to accommodate our unique requests. And they've provided great post installation support. The end result… an amazing in-home experience – exceptional audio/visual capability coupled with intuitive smart-device control of the house's main functions. Highly recommended!
Mike W.
Follow The Cloud 9 For The Latest News & Updates!
Secure Your Haven with Cloud9's Comprehensive Home Security Solutions In a world where safety and peace of mind are paramount, Cloud9 is your steadfast partner in safeguarding your home and loved ones. Our holistic home integration services offer a comprehensive suite...
read more